Threaded fittings are a critical component in plumbing, fluid transfer and compressed air systems by providing a means of connecting pipe fittings and appliances.
With several types of fittings available, for anyone not familiar with the distinct differences, selecting the correct fitting for your needs can be a minefield.
If you're unsure what fitting you need then you're not alone, and this is why we've put together this guide.
This guide will provide everything you need to know in selecting the right fitting. We'll discuss the various types of threaded pipe fittings, understanding what thread type and size you need as well as the various factors you need to consider.
The Difference Between Male And Female Threads
Male and Female are terms used to refer to the type of fitting. Which one is it?
An easy way to remember is that male threads are screwed into female threads.
Main Thread Types
Sizes aside, there are various types of threads available. Some of these thread types relate to where they were invented, whereas some are for particular uses. Below you can find some of the more common thread types that we encounter.
BSP Threads
BSP stands for British Standard Pipe and has been industry standard in the UK since it was invented in 1841. BSP is still the most common thread type in the UK, Europe, Asia & The Commonwealth (Australia, New Zealand, South Africa).
BSPP Threads
BSPP stands for British Standard Parallel Pipe and is a variation of BSP. Also sometimes referred to as G (i.e. G3/4), BSPP threads have a constant diameter.
BSPP threads do not seal in the same way as BSP threads where they are wound together. To achieve a seal, a captive 'O' ring or bonded seal is used, often in combination with PTFE or silicone sealant. For this reason, achieving a watertight seal can be difficult.
BSPP threads can not be interchanged or used combined with BSP or BSPT threads.
BSPT Threads
BSPT stands for British Standard Pipe Thread and is another variation of BSP where the threads outer dimension is tapered. BSPT fittings typically seals by wedging the tapered threads between two metal surfaces. In contrast, an O-ring or bonded washer is used to create the seal.
The main application for BSPT fittings and adapters is seating into a machined spot face, a portion of a workpiece that has been "faced" to give a smooth, flat, perfectly positioned surface, frequently in a rough casting. These fittings offer the best seal when combined with a lubricant or sealer to provide a pressure-tight connection.
NPT (National Pipe Thread)
NPT, or American National Standard Taper Pipe Thread threads are another name for ANSI/ASME B1.20.1 pipe threads. NPTF thread roots are designed to interfere with the crest of the mating thread, which creates a mechanical seal through thread form deformation on assembly.
Male pipe threads (MPT), commonly known as NPT threads, cannot be used in place of NPS (national pipe straight) threads. A taper thread will pull tighter and provide a tighter seal than a bolt's straight threads. A sealing compound or PTFE (Polytetrafluoroethylene) tape must be used to ensure a leak-free seal.
NPTF (National Pipe Tapered for Fuels)
The National Pipe Taper Fuel (NPTF), also known as Dryseal American National Standard Taper Pipe Thread, is designed to produce a leak proof seal without the use of a sealant.
NPTF threads are used instead of NPT when:
The use of sealants could contaminate the fluids or gasses flowing through the system.
Applications are critical or the thread sealant might fail because of high heat or high pressure.
Other Thread Classifications
UTS (Unified Thread Standard)
The UTS thread, which is also commonly used in the United States and Canada, contains numerous tolerances, classifications, and allowances
UNC – Unified National Coarse.
UNF – Unified National Fine.
UNEF – Unified National Extra Fine.
UNM – Unified National Miniature.
UNS – Unified National Special.
M – ISO (Metric)
For metric screws, the letter "M" signifies the nominal outside diameter of the thread in millimetres. It is sometimes referred to in the following literature as the "major" diameter. It defines the diameter of a hole with smooth walls through which a male thread (such as that on a bolt) can easily pass to form a secure connection with an internally threaded element (such as a nut) on the opposite side.
In other words, because of its nominal outside diameter of 6 mm, an M6 screw will fit correctly and coaxially in a 6 mm-diameter hole.
Male/Female Flare Fittings (MFL and FFL)
MFL and FFL connections are fundamental compression connections. Male and female are denoted by the letters M and F in MFL and FFL, respectively.
The beauty of flared fittings is the seal made when the fittings are tightened, as the seal is formed by the contact between the two flared (or chamfered) surfaces rather than the thread.
Typically, male and female components are designed with a 45-degree flare, which offers a sturdy contact surface and removes the need for thread tape or sealant.
BSP Standard Uses
Common sizes and purposes include:
3/4-inch British Standard Pipe - filter housings, Bath taps, washing machine input hose connections, and contemporary exterior tap outlets

1-1/4 Inch British Standard Pipe - Sink drainage (bathroom sink).

1/4 Inch BSP - Water filters, water coolers, Connectors for compressed air

3/8 Inch BSP - Appliance/machine outlets such as espresso/coffee machines, ice makers vending machines etc.,

2-1/4-inch British Standard Pipe (BSP)- Immersion water heater elements

1/2-inch British Standard Pipe - Bathroom basin and kitchen sink faucets, radiator connections, shower hoses, old outdoor tap outlets, and toilet cistern fill/float valves

5/8 Inch BSP - Previous exterior tap outlets

7/8 Inch BSP - Outlet thread on 3/4 Inch external tap

1 Inch BSP - Boilers and hot water cylinders for residential heating, urinal flush valves.

1-1/2-inch British Standard Pipe - Kitchen sink wastes, bathroom wastes, toilet syphon outlets, and central heating pumps
How to Select the Correct Thread Type
Identifying different thread types requires specialised equipment and an elimination procedure. First, prepare the following:
Vernier calliper

Thread pitch gauge
Once your measuring tools are prepared, here's what you need to do next:
Identify if the connections are male or female threads.

Determine if it has a tapered or parallel design.
NOTE:
- Eliminate the thread forms NPT NPTF BSPT MFL FFL if parallel.
-Eliminate the thread forms BSPP, UNC, UNF, UNEF, UNM, and UNS if tapered.
When it is impossible to identify visually whether a thread is parallel or tapered, the base and end diameters can be measured with a Vernier calliper.
Measure the thread diameter using a Vernier calliper: Male threads' outer diameter (O.D.) and female threads' inner diameter (I.D.) must be determined (I.D.).

Using the thread pitch gauge, calculate the threads per inch or distance between each line.

Measure both goods and select the measurement that most closely corresponds to the numbers in the table below.
Remember that threads may deteriorate over time, so your figures may not precisely correspond to these.
How to Select the Correct Thread Size
A common misconception is that thread sizes such as 3/4" measure exactly 3/4". In fact, imperial measurements are nominal values meaning they do not necessarily match the same dimensions.
This is industry standard however is a common mistake people make when ordering fittings.
For example, if you measure a 1/2" thread you will find that it actually measures closer to 3/4", and a 3/4" threaded fitting measures closer to 1".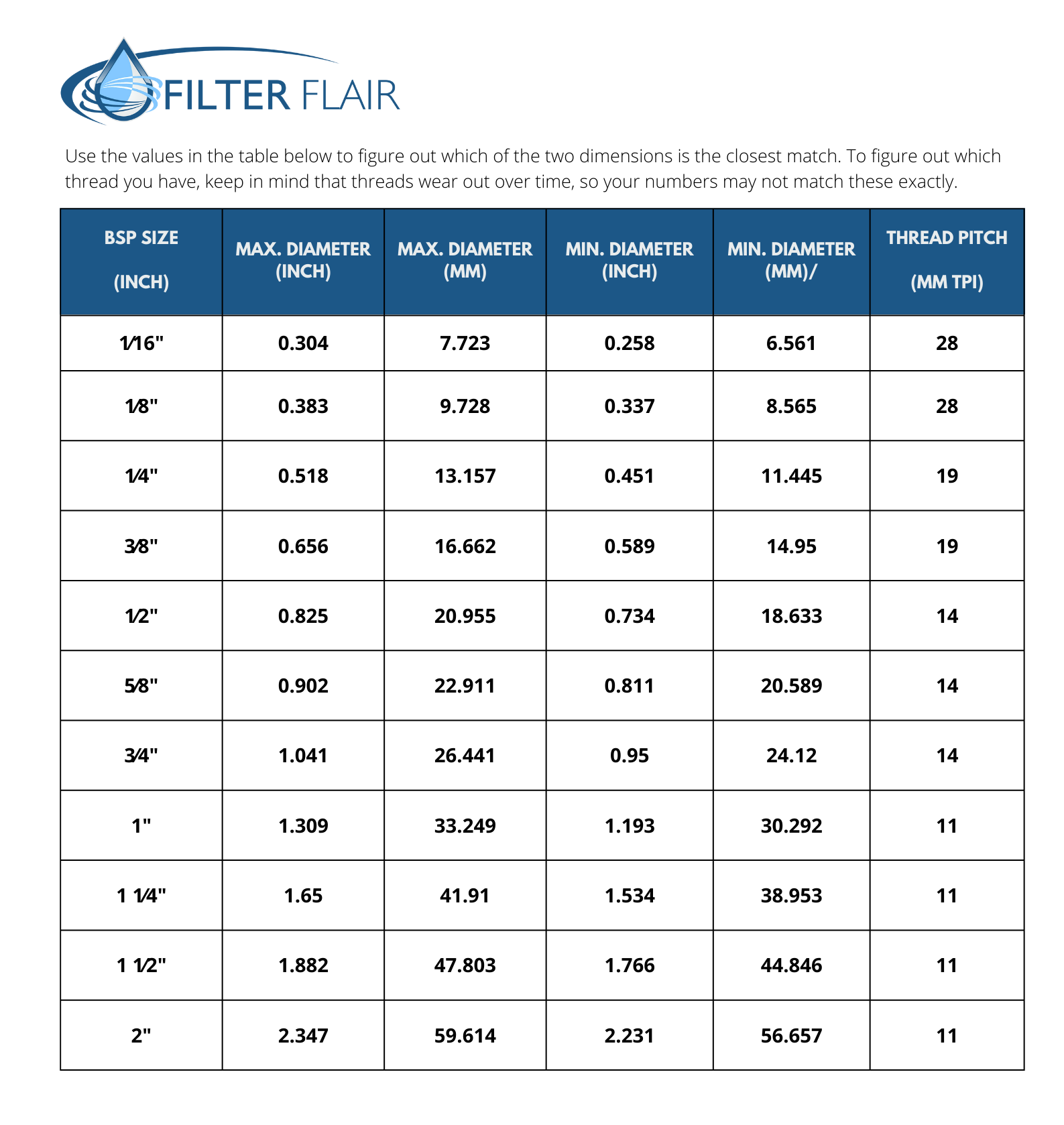 Final Words
We hope this article has helped you to understand the different types of threaded fittings and given you the information needed to select the correct thread type and size for your project.
Always double-check with a supplier such as Filter Flair or the manufacturer if you are unsure about what fitting thread size to use, as they will be able to provide you with the most accurate advice.
If you need help determining which type of thread you need, or if you have any other questions about fittings or plumbing in general, don't hesitate to contact us. We would be happy to help!
Filter Flair takes excellent pleasure in providing quality products and services. If you can't find what you're looking for despite our best efforts to satisfy all of your water filtration needs, get in touch with us.
FAQs
What BSP threads size is a 15mm compression fitting?
The short answer is...1/2 "BSP.
The 8mm, 12mm, and 15mm compression ends' thread sizes are 1/4", 3/8", and 1/2, respectively "BSP compliant with ISO 228 and BS 2779. Others are BS 84 Whitworth thread sizes.
What size thread should I get for fitting?
Measure the inside diameter (ID) of the female thread and the outside diameter of the male thread (OD). This number will be used to figure out the size of the thread. To find the nominal size, count the threads on a fitting and look at the thread chart earlier in this guide.
What are straight threads?
The threads in a straight thread are cylindrically parallel to one another. Straight thread port fittings and adapter fittings need to be sealed against leaking using the O-ring boss seal technique. This is simply another term for "Parallel threads".